Thursday 14th September 2023 Booking Thursday 15th June
The Angel, Georgian and Victorian squares, Duncan Terrace, Copious Blue Plaques, Camden Market, Sadlers Wells, 17C New River and landscaped areas and what artist Walter Sickert called the hanging gardens of Islington.  Gracie Field's home, where Joe Orton playwright was murdered and Boris Johnson's former home.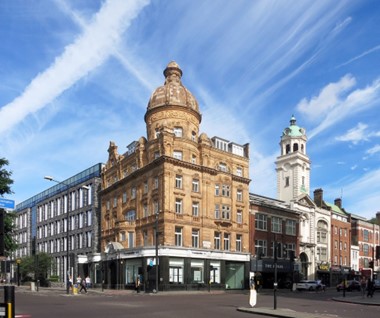 (Please click on the blue print above to continue reading)
Islington was a staging post on the route north from London and The Angel takes its name from an Inn on the turnpike road. The New River, built to supply London with water from Hertfordshire from 1609, passed through Islington on its way to the round pond at New River Head, south of the Angel (its creator, Hugh Myddleton, is commemorated by a statue at Islington Green) replacing water from springs at Clerkenwell and Sadlers Wells.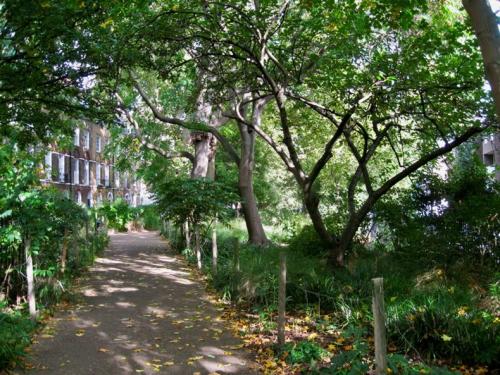 Duncan Terrace and Colebrooke Row comprise a series of linear gardens which were built either side of the New River, 300 bird boxes provide shelter for nesting birds, insects and other wildlife.   By the late 18th century, tens of thousands of oxen and hundreds of thousands of sheep were passing along Islington High Street every year on their way to Smithfield.  Liverpool Road, previously called Back Road until 1826 when it was named after the prime minister 2nd earl of Liverpool, Robert Jenkins, it had raised pavements and railings to keep the animals in control.  Islington was developing rapidly as a residential suburb, with elegant Georgian and Victorian squares proliferating in Barnsbury and Canonbury, while Upper Street and Lower Street (now Essex Road) became busy shopping centres.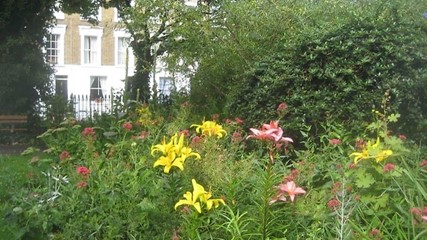 During the 1840's much of Islington became a 'walking suburb' – a dormitory for the thousands of clerks who walked to work in the City of London, while street traders came to Chapel Market.    Islington's rural connection survived with the building of the Smithfield Club's Agricultural Hall in 1862. The hall was later used for almost every imaginable kind of event and was the original venue for Cruft's dog show. It is now a business design and exhibition centre.
The opening of the palatial Highbury and Islington station in 1872 symbolised Islington's role as the typical commuter suburb; appropriately Weedon Grossmith, co-creator of the archetypal commuter suburbanite 'Mr Pooter' in The Diary of a Nobody, lived in Canonbury Place in the 1890s.   Soon, however, the middle classes were choosing to move even further out of central London; large homes were subdivided and Islington became a working-class area. It was partly in grim appreciation of its down-at-heel grittiness that George Orwell chose to move into Canonbury Square in 1944.
Islington suffered wartime bomb damage and post-war depopulation but from the late 1950s the process of gentrification began, bringing the middle classes back to restored and revived squares and terraces. Running in parallel was the building of huge council estates such as the Marquess estate, off Essex Road, for a time reputedly the most crime-ridden in Europe and subsequently the subject of a major regeneration scheme.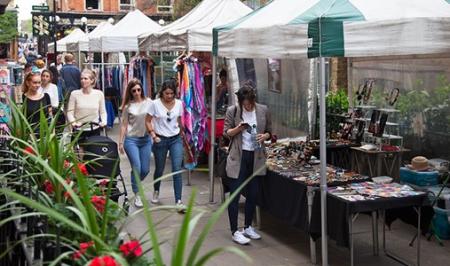 The flourishing of the Camden Passage antiques market was another sign of changing times, as Upper Street in particular became a golden mile of smart shops and chic restaurants. Naturally, property developers eagerly take advantage of any vacant sites that become available, creating mixed-use complexes such as Islington Square.
The Kings Head theatre pub, Upper Street, hosts Opera Singers, Musicals, Comedy, Reviews.   Opposite is the church of St. Mary Islington.   The Little Angel puppet theatre has shows every day.  Almeida Theatre. The Hope & Anchor was the venue for many famous rock bands in the 70's and 80's.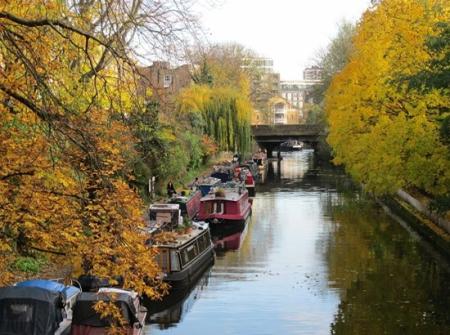 This is one of London's prettiest and leafiest walks, though you wouldn't think so where you start. But one moment you're in the hustle and bustle of the Angel, and the next you're in the cutest of pretty, leafy, quiet Georgian streets where Boris lived till 2018. You see a beautiful stretch of canal before heading past an impressive Victorian building that's been converted into modern day usage. You then see the 'coffee culture' of a trendy passageway and antiques market before heading on to the old centre of Islington, which is steeped in interesting 18th, 19th and 20th century history.