Our Current Project at Frazer Nash Archives, Based in Henley
On 26th February 2023, Our Heritage Volunteers Committee Representative, Hugh Fitzwilliams, wrote:
All those original mechanical drawings and blueprints, despite their technical complexity and significance, their worn creases and torn edges, were simple to clean, repair and define. They came clearly dated, systematically numbered and with distinctive headings.  In contrast a trunk of personal family memorabilia is a magical mix; frequently unlabelled, each item often totally unrelated to anything above or below it. A hotchpotch of photos, letters, hotel bills, postcards, handwritten notes on the back of something else perhaps or perhaps not relevant, dinner menus, and a myriad of odds and ends and other items. To categorize, list and describe such an eclectic mix is, to say the least, challenging!
Such is the current Heritage volunteers' task at the Frazer Nash Archives. Even the Trustees, who despite their deep knowledge of Frazer Nash cars, events  and personalities, have found the intricacies of archive architecture far more challenging than a chain drive power unit.

Both the Trustees and ourselves have the easy excuse that Covid disrupted our learning rhythm, but the reality is that the process is detailed, complex and takes time to master. I think we are nearly there. The difficult bits have naturally been left until last and the project, now we are mastering the alchemy of archiving, may perhaps have a year or two still to run. Hopefully the clarity and precision of our hand written analysis will allow others on continents far from Henley to enter this mass of information into the all-powerful, very versatile computer in the clouds so that petrol heads, FN owners, social and motor sport historians and many others can access it with speed and precision. The chequered flag remains some laps further round the course.
Hugh Fitzwilliams 26th February 2023
The Heritage Volunteers started work with Frazer Nash Archive in November 2017. It has been very different from our previous traditional projects which were all Library or Church based.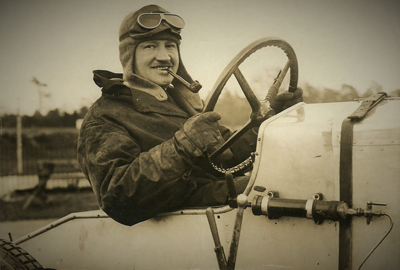 The archive is located in Henley and focuses on the history of the Frazer Nash marque and the life stories of Archie Frazer Nash and the Aldington family.  This spans the period from 1909 when the first motor car was built by  Archie Frazer Nash and Ron Godfrey through to 1958 when the last post war design was produced and on to 1965 and 1976 when Archie Frazer Nash and H J Aldington died.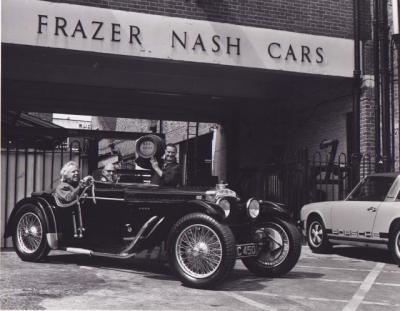 The Archive is not just about the iconic early chain driven GN and FN motor cars.  The relationship with BMW started in 1934 and most Frazer Nash cars were powered by the BMW engine. The last Frazer Nash car was produced in 1958, the same year in which AGN Ltd acquired the sole UK distributorship for Porsche.  This continued through to 1988. The close business relationship gives fascinating glimpses into political and industrial aspects of pre war Germany and the unravelling of business assets in the immediate post war confusion of American and British Sectors.  Amongst the real gems however are the 'inventions' and innovations of Archie Frazer Nash as an engineer.
Archie's association with motor car production and design virtually ended in 1929 when HJ Aldington acquired financial control of AFN Ltd.  However, Archie's association with engine design, motor racing, hill climbing and endurance racing both with FN and Austin continued.  His engineering prowess turned to cranes, machine guns, gun turrets and any 'problem' that seemed beyond the reach of those he worked alongside.  He was a larger than life 'character', not only a renowned practical engineering problem solver but also a consistent fiaser in business finance whose enterprises seemed always short of funds and teetering on the brink of receivership.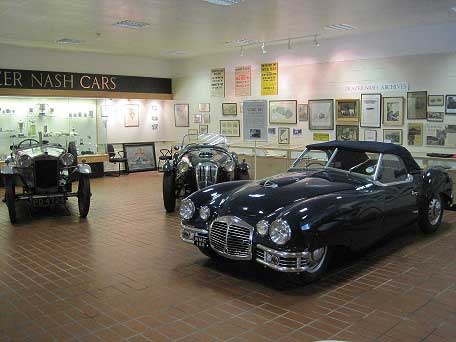 The Archive objective is to catalogue and scan all relevant records and paper work, making it available online.  Our work has focused on the cleaning and cataloguing of paper records. The predominant aspects have been blue prints and drawings, factory time cards, Archie Frazer Nash's war time diaries of his armament work, commercial and other correspondence, marketing material and artwork records of races and events and box upon box of miscellaneous, often repetitive but frequently fascinating notes, pictures and articles.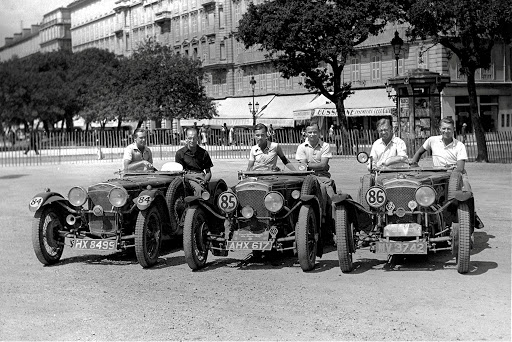 We have now reached the point that our handwritten schedules need to be transferred to the grand computerised archive system.  This is a new challenge both for us and the Trustees, working under the overall guidance of the head archivist of Kings College London.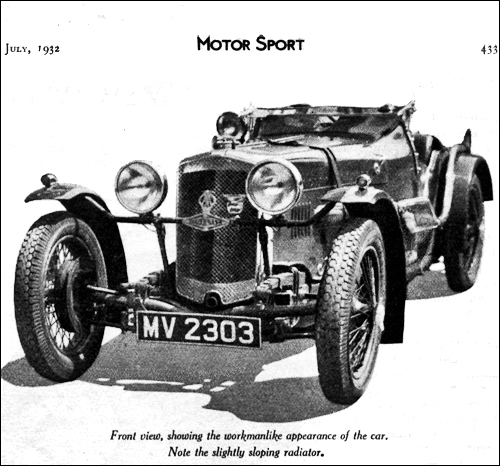 We work in the Frazer Nash archive offices on the first and third Mondays of the month from 10.00am until 3.00pm. There are a total of twelve volunteers split into two teams of six, each working one Monday a month. There is considerable movement between teams to cater for varied availability.  The teams contributed 392 man hours in the twelve months to December 2019.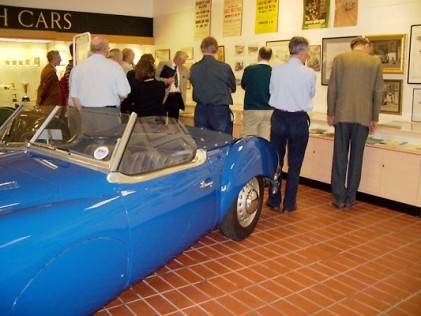 If you would like to join the team, please telephone Hugh Fitzwilliams on 07776 160812.
~~~~~~~~~~~~~~~~~~~~~~~~~~~~~~~~~~~~~~~~~~~~~~~~~~~~~~
Previously, the Heritage Volunteers of The Arts Society Henley have a long and proud record of book conservation.  They are a small group who give their time freely to clean, repair and restore books of all ages, shape, type and size at whichever library they can find work.  Some of the Henley Heritage Volunteers have been doing this work for 20 years or more.  Over the years they have worked at  Worcester College, Oxford, Campion Hall, The Oxford Union Library, Christ Church College, Stonor Park, and Lincoln College Library, Oxford.
In 2010 the Heritage Volunteers worked at nearby Stonor Park at the invitation of Lord and Lady Camoys.  Their private family library gave a fascinating window into the threats and challenges facing one of the principal Roman Catholic families of England from the height of their persecution through to modern times. Some of the books and pamphlets have no named author or printer for the simple reason that to lay claim to such material meant a heavy fine, imprisonment or even death. Family prayer books and devotional works, alongside 19th century plays and entertainments written by the family for performances with other local families, gave an endearing almost 'Jane Austen' glimpse into the life of that time.
New recruits are always wanted and all that is required is good eyesight, a steady hand, a cheery nature, a willingness to work in a disciplined way and commitment to attend one Monday in three.  
If you are interested please telephone Hugh Fitzwilliams on 07776 160812.