Wednesday 8th June 2022 (Booking Thursday 21 April)
This Special Interest Day examines four hundred years of international jewellery design, showing the changing styles from the pomp of High Renaissance enamelled gold work to the glamour of Harry Winston diamonds. 
(Please click on the blue print above to continue reading)
This presentation covers many of the key elements of manufacture, including the progress of diamond cutting, Neoclassicism and Romanticism, 19th century Archaeological and Renaissance Revivalism, the impact of diamond mining in South Africa, Art Nouveau, Arts & Crafts and Art Deco, Post War Modernism and designs of the future. Other important areas covered include Cartier and the introduction of platinum jewellery as a statement of style and the jewels of the Duchess of Windsor.
The day provides a diverse and compelling range of jewellery presentations.  The first two sessions comprise lectures illustrated with high resolution colour images, the first on Jewellery from Elizabeth I to Victoria and the second on Jewellery in the 20th Century.  The third session complements the lectures with a practical "workshop" during which TASH members' own jewellery is identified and valued on the spot.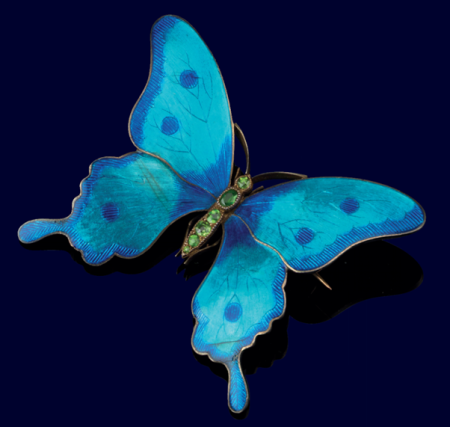 A Child & Child Edwardian silver, translucent enamel and gem-set butterfly brooch, part of the Dr Anne Shannon Collection comprising 297 lots which sold in its entirety at Woolley & Wallis for over £738,000
.
A Cartier Art Deco diamond riviere sold for £320,750 and an Andrew Grima 2.97 carat fancy grayish-blue diamond ring in an architectural sapphire and diamond surround sold for £1,482,500, a world record price per carat at auction for a fancy grayish-blue diamond and a world record for a Grima creation.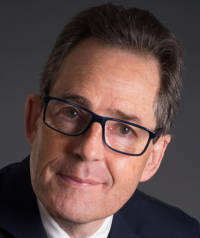 After leaving school at 17 John Benjamin served a four year apprenticeship at Cameo Corner, an antique jewellery shop just 50 yards from the gates of The British Museum.  He then joined Phillips Auctioneers for the next 23 years, latterly as International Director of Jewellery. Since 1999 has been an independent Jewellery Consultant. He lectures, writes and broadcasts (including on the BBC Antiques Roadshow).  He was admitted to Goldsmiths' Company in 2000. He is the author of Starting to Collect Antique Jewellery and co-author with Paul Atterbury of  The Jewellery and Silver of H.G. Murphy.