Venue: The Kenton Theatre, Henley Wednesday 9th November AGM at 10.30am followed by lecture (morning lecture only)
Harry Venning has been a professional cartoonist for thirty years, during which time he has provided cartoons for several high profile UK publications (The Guardian, Radio Times) as well as for countless more obscure titles (British Journal Of Wound Care).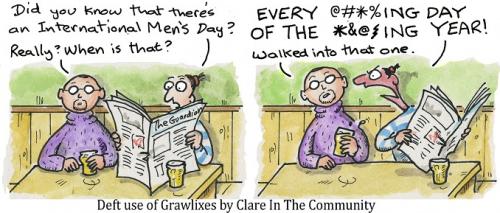 He was awarded UK Strip Cartoonist Of The Year for his Guardian strip Clare In The Community, which he adapted into a Radio 4 sitcom.
(Please click on the blue print above to continue reading)
In 'The Art Of The Cartoonist' Harry will be tracing the history of his profession with examples from early practitioners like Cruickshank and Hogarth, to more contemporary artists such as Giles and Schulz, bringing events right up to date with cartoons produced fresh on the page that day!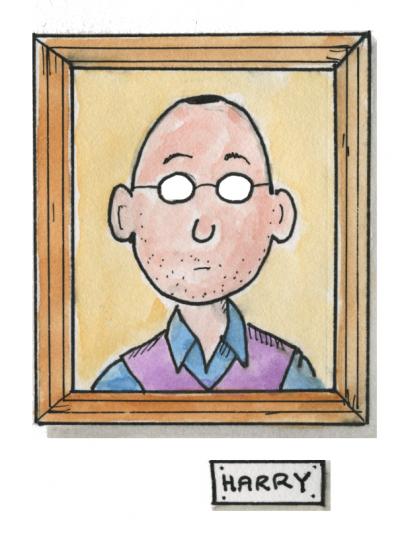 Yes, Harry will be drawing live. Prepare to hear some tricks of his trade, learn where to put eyebrows for maximum effect and discover exactly what the eskimo brothers said in The Funniest Joke Ever (possibly).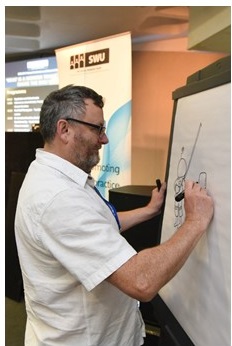 Harry Venning graduated from the University of Wales, Aberystwyth with a BA in history, formed a touring theatre company bringing new plays to audiences in rural Wales, was then employed for a year as an actor/writer with the Channel Theatre Company in Ramsgate, Kent, before giving up acting and becoming a cartoonist instead.
I have had work published in the UK and abroad, including the strip Clare in the Community which has been a weekly feature in The Guardian since 1996. In 2016 I was awarded Strip Cartoonist of the Year by the UK Cartoon Trust.
I am also a Sony Award winning writer of radio comedy, including the shows Coach Karen's Half Time Team Talk and Clare in the Community starring Sally Phillips, currently recording its twelfth series.
For the last ten years I have been performing my cartoon workshop Release Your Inner Cartoonist in its many different guises, to audiences as diverse as schoolchildren, business executives and festival goers.
I can't draw hands or horses.