Thursday 7th December 2023. Our Christmas lectures at 10.45am and 2.15pm at The Henley Rugby Club
A Christmas version of his life and times. Dickens was often referred to as Jolly Old Christmas because of his highly popular short stories especially written for the festive season.
He was also the first novelist to use the words Merry Christmas thus starting a trend that is still popular today.
(Please click on the blue print above to continue reading)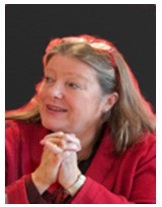 Jane Tapley is currently the Special Events Organiser at the Theatre Royal Bath. She interviews visiting actors, writers and directors. She lectures regularly to theatre going societies, National Trust and history and fine arts groups. She is a West Country Tourist Board Registered Blue Badge Guide and Lecturer. She is an author and researcher of theatre programme notes on Hamlet, Sheridan's The Rivals and Jane Austen's Emma. She is a theatrical landlady! She is a Home Economist and consultant to various TV productions of Jane Austen adaptations on food in the 18th and 19th centuries. She hosts and cooks period meals in her Regency house in Bath for the Jane Austen Festival and other literary groups.