Thursday 21st April 10.45am repeated 2.45pm
Since 1997, when I left Christie's Auctioneers after 20 years, I have been based beside the River Thames in Chiswick and have maintained full-time studios involved in the conservation of paintings, frames, and polychrome sculpture and the making of handmade frames & display cabinets.
I have been reminded repeatedly that an object of value, whether financial or sentimental, tends to have a history, even if unknown to the owner. As an art historian, conservator of oil paintings, and maker of handmade frames, I want – and am determined, so far as is possible - to find out the history of the work of art with which I have been entrusted.  So often that history is there for a skilled practitioner: in the image, in the pigment, and in other detail, underneath layers of dirt, opaque varnish and other discolouring. One has to look - and look again - as one sets out to establish how pictures looked in their original state.
(Please click on the blue print above to continue reading)
Over the years, many paintings have come to my studio for conservation and reframing. Often, very sadly, if portraits, both artist and sitter(s) are forgotten; and, if landscapes, neither artist nor location are identified. Now I have made it my business to expand the subject of lectures and study days I offer on the Conservation of Paintings and The History of Frames - and how the two combine to enhance the power and authority of a work of art - to focus on revealing forgotten histories by talking on Undiscovered Gems of the Art World – works which the studio and I have been fortunate enough to restore to their rightful place in the history of art, thanks to thorough conservation and academic research.
This new lecture on Identifying the Forgotten Gems of the Art World, takes into account three crucial points that my conservation studio, is passionate about:  Restoration, scientific analysis and research, and all three come together in our conservation studios.  We examine a painting in the round, showing how we go about examining pictures including: the crucial importance of stretchers, canvases and panels; recognition of individual artistic technique; identification of related drawings and other versions of the paintings upon which we are working to be found in museums and collections around the world; and the valuable input to be provided by modern scientific investigation.  It is a voyage of adventure and discovery and I want to carry you with me as the focus on the conservation of these paintings in the studio leads to the unlocking of their identity.
This lecture takes us from the Italian Renaissance, through Mannerism, to the Dutch Golden Age.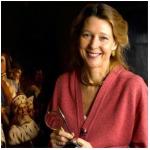 Julia Korner is a specialist and lecturer in fine art conservation and the restoration of paintings, sculptures and frames. She is also a valuer, passionate collector, advisor and curator of paintings and works of art. Julia trained in art history and conservation, Cambridge, England. Then, for twenty years, she worked for Christie's as a paintings' specialist, building extensive knowledge of Old Masters, and of British, European and American paintings from the 1700s onwards. She set up Christie's Maritime Department in 1986, followed by the Frame sales, the Aeronautical, Exploration & Travel and the Polar sales. Julia was elected Huntington Fellow of the Mariners' Museum, Newport News, Virginia, USA, in 1997. A seven-year commitment there saw her catalogue this collection and that of its sister organisation, the South Street Seaport Museum, New York.
Julia has worked independently in her own studio in West London since 1997. Here, she and her small team give specialist conservation work personal and expert attention through restoration, scientific analysis and research. Damaged paintings, polychrome statues, over-mantles, traditional gold leaf & gesso frames, along with unusual and exquisite handmade cabinets all emerge transformed by the conservation work, or created from scratch, under her expertise, knowledge and care.
Julia acts as an advisor, valuer and exhibition curator for public and private collections, in the UK and abroad. She also gives illustrated talks and lectures. She is an elected member of The British Antique Dealers' Association, The British Association of Paintings Conservator Restorers, The Worshipful Company of Arts Scholars, and The International Institute for Conservation.  In addition to her role as a lecture for The Arts Society, Julia also lectures for Sotheby's Institute, Christie's and Fine Art Societies at home and abroad.