Thursday 18th February 2021 at 10.45am and 2.15pm or online at 10.30am if necessary
During Ernest Shackleton's third Antarctic expedition in 1914, his ship, the Endurance, was trapped and eventually crushed in the pack ice.  After camping for five months on the ice, Shackleton's men rowed to the remote Elephant Island.  From there, Shackleton sailed for help to South Georgia over 800 miles away. Over three months later he returned to rescue the crew of the Endurance.
                                      Elephant Island                                                                                      South Georgia
                                                                        photographed by Frank Hurley
(Please click on the blue print above to continue reading)
Frank Hurley, one of the great photographers of the 20t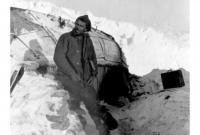 h century, was the expedtion's official  photographer.  His photographs are a visual narrative of an epic journey which capture with great artistry new and amazing landscapes within which a remarkable human drama is played out.  The aim of the lecture is to capture Hurley'a achievements as a photographer of the Antarctic in the first flush of human contact when it was still essentially terra incognita.
Born on the Isles of Scilly and educated at Truro School, Cornwall, and Birmingham Univerity, Mark's career has been spent in education and training at home and abroad.  He has lectured at Exeter College on Medieval and Tudor history, St Mark's & St John's University College, Plymouth, and at Bath University on Anglo Saxon and medieval England.  He currently runs two small companies providing training and study breaks.